TEMPORARY STUDENT HOUSING IN COPENHAGEN
THE STARTUP HOUSING IS CLOSED FOR THIS SEASON BUT WILL BE BACK SEPTEMBER 2024!
ARE YOU LOOKING FOR ONE OR A FEW WEEKS OF TEMPORARY ACCOMMODATION DURING THE START OF THE SEMESTER?

In cooperation with Municipality of Copenhagen we are offering temporary student hostel accommondation for 1-12 weeks.
FAQ



Do I need to be a student?
Yes. Please also send a copy of your admittance letter or study certificate to housing@studenterhuset.com when you book.
Can I register with CPR (Personal ID number)
Yes. The link to register with the Municipality is  HERE
You will need to upload a "Housing Confirmation" from your landlord (that´s us) showing that you have booked accommodation for minimum 4 consecutive weeks.
You get the Housing Confirmation by
1) Booking accommodation for at least 4 consecutive weeks.
2) Sending us an e-mail to housing@studenterhuset.com asking for a Housing Confirmation. Please write your booking confirmation number(s).
3) Expect 1-2 working days for us to send you the completed Housing Confirmation form. You can then upload it at the link above together with the rest of your documentation.

Where is Valdemarsgade exactly?
Right HERE
How does moving in and moving out work?
When you move in, check-in is on Saturdays between 14-16 – except for the first week of September!*. Here you receive welcome information, your key etc.
If you can't make it for the check-in day, write us at housing@studenterhuset.com at least 3 days in advance, and we'll make arrangments to get your key to you.
Check out is Saturday between 11-12. At this time, we'll check that your locker is empty and you'll return your key. Then we'll refund your deposit. If you need to check out earlier, let us know, and we'll find a good place for you to leave your key.
*If you're booking a bed for the first week of September, the check-in won't be until Sunday September 3! It'll still be from 14-16. This is because we won't have access to the building before this. The booking system will tell you to book from September 2nd but we'll return the money for the first night together with your deposit.
How long can I stay?
Startup Housing will be open September 3 – November 25. You can stay for the whole period or just a week or two depending on your needs.
What should I bring?
Bed linens, towels, and your clothes. We provide a bunk bed and a small locker. You can bring approximately what you can fit in a suitcase.
I bring all my furniture to Copenhagen until I get a permanent accommodation. What do I do?
We do not have room in Startup Housing. But companies like City Self Storage, Pelican storage, and Shurgard offer storage solutions that you can book for weeks or months at a time.
Can I shorten my stay if I get a place to live?
Yes. Write us an email or find us in the house Saturdays between 11-16. Let us know no later than Tuesday the week you want to move out to (or you'll have to pay for the following week as well).
Do I have to pay a deposit several times if I book more than once?
The booking system might require you to pay the deposit every time you book – but we'll start the return transfer of any extra deposits immediately. Unfortunately, it may take several weeks for the money to return to your account.
We'll probably be able to extend your booking manually if you contact us before you book!
Is there parking?
For your bike. Car parking is close to impossible at Vesterbro.  No bike? Buy a used one or rent at www.swapfiets.dk
What facilities are there at Startup Housing?
A large kitchen, nice bathrooms and a very large communal room.
There is also a little courtyard that we share with the local theater in the building next to Startup Housing.
THE REST
When you move in, you'll receive an information sheet with practical information including the nearest laundromat etc.
The first couple of weeks at least, we'll arrange a weekly meetup night where you can meet the rest of the residents.
I have more questions
Write us at housing@studenterhuset.com.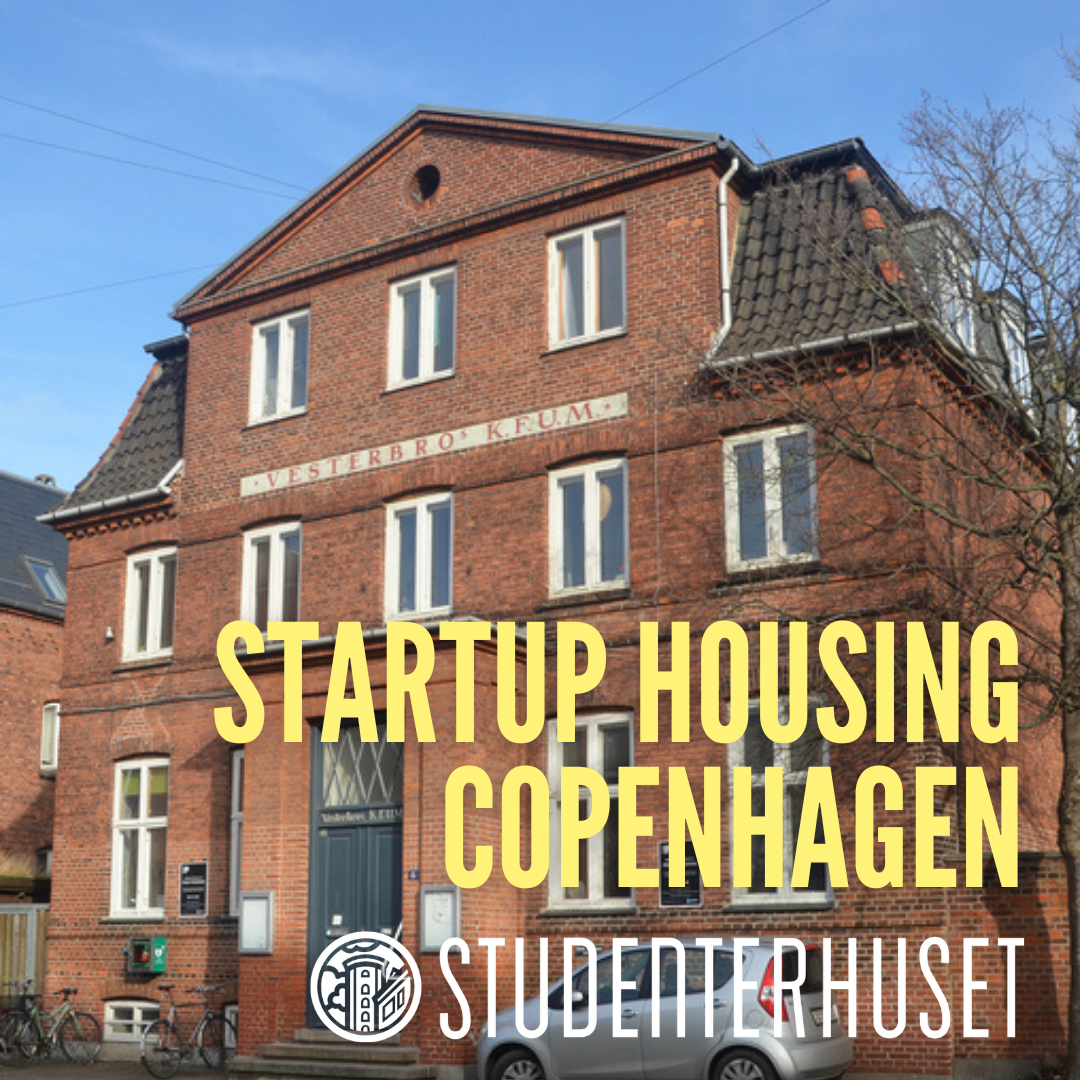 About Startup Housing
Startup Housing is an initiative by the Municipality of Copenhagen (link) to help students settle in Copenhagen. It is a part of the City of Copenhagen´s Student City Strategy.

Studenterhuset is in charge of the daily operation of Startup Housing.
We are your local student association for Danish and international students in Copenhagen.

Don´t hesitate to visit our mothership building at Købmagergade 52, 1150 Copenhagen C for café, concerts, events or debates.  
What an awesome idea – what can I do to help?
You can volunteer with Studenterhuset together with more than 250 other students. Have a look at HERE
Købmagergade 52
1150 Copenhagen K
At Studenterhuset the social environment is crucial; there are plenty of opportunities to meet up in study groups, hang out with friends and join the activities you want to. We have a bunch of regular activities every week, and our calendar is filled with concerts and events.